About Global Circus
Global Circus - a Revival of "Studia Generalia" in Asia
Scholars and students traveled between universities, to seek knowledge since ancient times. Beginning in the 1300's, institutions of international excellence designated as Studia Generalia by the Holy Roman Empire opened their doors to students across Europe, invited foreign scholars, and encouraged their own professors to lecture and share documents with other institutions. The time has come to draw on the wisdom of the ancients and blaze a new trail in this contemporary age of higher education. Global Circus Program offered by Niigata University seeks to revitalize this idea of students and scholars traveling between universities to create and share new knowledge in the fields of science and technology.
This program will build and enhance international intellectual networks based at Niigata University by

fostering mutual educational and research exchange with our overseas partner institutions
integrating more powerful advanced research into our graduate education program
sharing academic endeavors with international scholars and graduate students
realizing the intellectual excitement of seeking knowledge and the possibilities for cross-disciplinary innovations
After careful design and planning of this program, Niigata University was awarded a special grant from Japan's Ministry of Education, Culture, Sports, Science and Technology, which made it possible to launch this "Global Circus" program in 2009. At the initial stage, the program was executed only within the Graduate School of Science and Technology; however, the university shall apply successful experiences to its other graduate schools, including the Graduate School of Medical and Dental Sciences and the Graduate School of Modern Society and Culture.
Our Research and Educational Distinction
Niigata University's competitive edge is found in our internationally recognized faculty research achievement. According to the Asian University Ranking 2009 conducted by QS (Quacquarelli Symonds), UK, our faculty publication activity is ranked as the 41st among Asia's top 200 universities (Score point 90 out of 100). It is particularly worth noting that the score on citations per paper is 96 out of 100, which raises our status to the 17th among universities in Asia and places us right after such prestigious institutions in Asia as the University of Tokyo, Kyoto University, the University of Hong Kong, Osaka University, and so on. This example underscores the value of our philosophy of integrating state-of-the-art research into graduate education. Our graduate students see such an educational research environment as an invaluable resource for their future scholarship and professional careers because they are able to be involved on the research frontier with their professors daily.
Global Circus: How It Works
The Global Circus Program conceptually consists of three elements.
1. Collaborative Research between our faculty members and international scholars
2. Specialized graduate education programs
3. Student support programs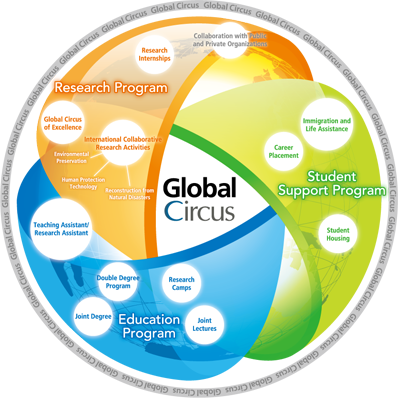 The core foundation of Global Circus exists in our faculty members' international collaborative research activities with foreign research partners. These research activities follow many interesting themes naturally linked with rising global concerns such as environmental preservation, agricultural production and food security, reconstruction after severe natural disasters, and human protection technology, while other research activities focus on contemporary frontier research fields like nano science and technology, quantum science, biotechnology, and so on. Through these internationally linked activities, we select significant partner institutions which share our mission purposes as bases of the Global Circus of Excellence with whom we share mutually beneficial research and establish educational partnerships.

This newly formed international network based at Niigata University would provide numerous opportunities for collaborative research, meetings, and symposiums under certain thematic, disciplinary or even cross-disciplinary approaches. Even though at the beginning this network functions as if it were spokes of a wheel centered at Niigata University, in the near future we hope and intend that the design of this program would more closely resemble a web joining Niigata University's partner institutions with each other.

Hence, our concept of exchange should be distinguished from programs which simply receive or dispatch scholars and graduate students. Within the international collaborative research network, graduate students participating in Global Circus are expected to pursue their study and research under a certain theme related to these projects and to be mobilized among institutions around the world. Various forms of academic experiences and professional involvement are provisioned, ranging from research camps, a series of joint lectures, international research internships, to more formal opportunities that lead to double and joint degrees. Participants in these programs are naturally expected to acquire and deepen perspectives and research approaches on their subject and interest, as well as to significantly improve their capability to communicate with those who are from different backgrounds. Additionally, academic enhancement resulting from Global Circus can bring a more stimulating environment to undergraduate students, entire campus bodies, and communities.

At Niigata University, we make tremendous efforts to support student life in various ways. International students who participate in the Double Degree Program will be exempted from tuition and fees. Additionally, those admitted with financial support from Niigata University may receive financial assistance that could generously cover part of rent, travel and other necessary expenses related to academic pursuits.